"Rebuke!" is the Asheville Free Press' criticism column. It combines fact-based analysis with a clear perspective on issues that affect our communities.
---
Saturday, December 25, 2021, was an unseasonably warm Christmas Day – the temperature reached highs in the 70's. But the day's low point had to be around 10:30 pm, when the City of Asheville deployed an estimated 15-20 police officers to make six arrests, including two journalists, at a demonstration demanding sanctuary camping for unsheltered individuals at Aston Park.
Locals gathered at the park for 5 non-consecutive evenings this week, and their goal was simple: They wanted the City of Asheville to leave unhoused urban campers without another shelter alone. In addition to being the location of a high-profile camp eviction in April of 2021, Aston Park was chosen in conversation with unhoused community members for its proximity to the bus line and services. On Sunday, December 19th, demonstrators began working to establish a place of refuge at the park.
What started as an art party, painting banners that bore political slogans and building wind-breaks meant to protect tent campers from frigid December wind gusts, evolved into a multi-day demonstration against camp sweeps generally, and an attempt at setting up a sanctuary camp at the park.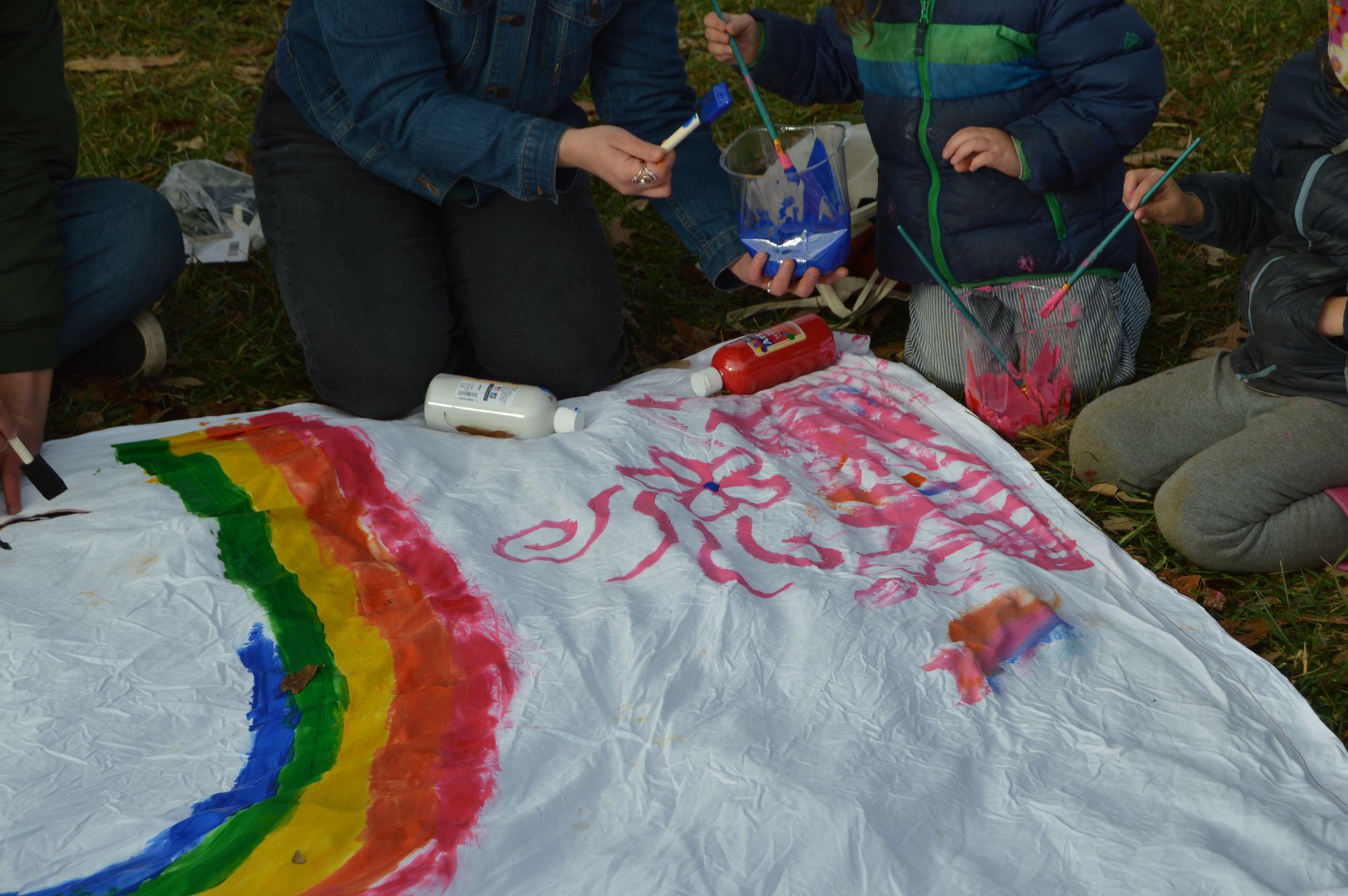 After multiple encounters with Asheville Police over the week, including the threat of mass arrest, participants decided they were going to take a stand on Christmas night. "We're not leaving," declared one hand-made banner.
By 5 pm, when tents first started to go up, there were approximately 30 people at the park; attendees included community members who were housed, those who were not, and even a City Council candidate. They shared food, danced to music, and children played – racing bicycles around the perimeter of the park.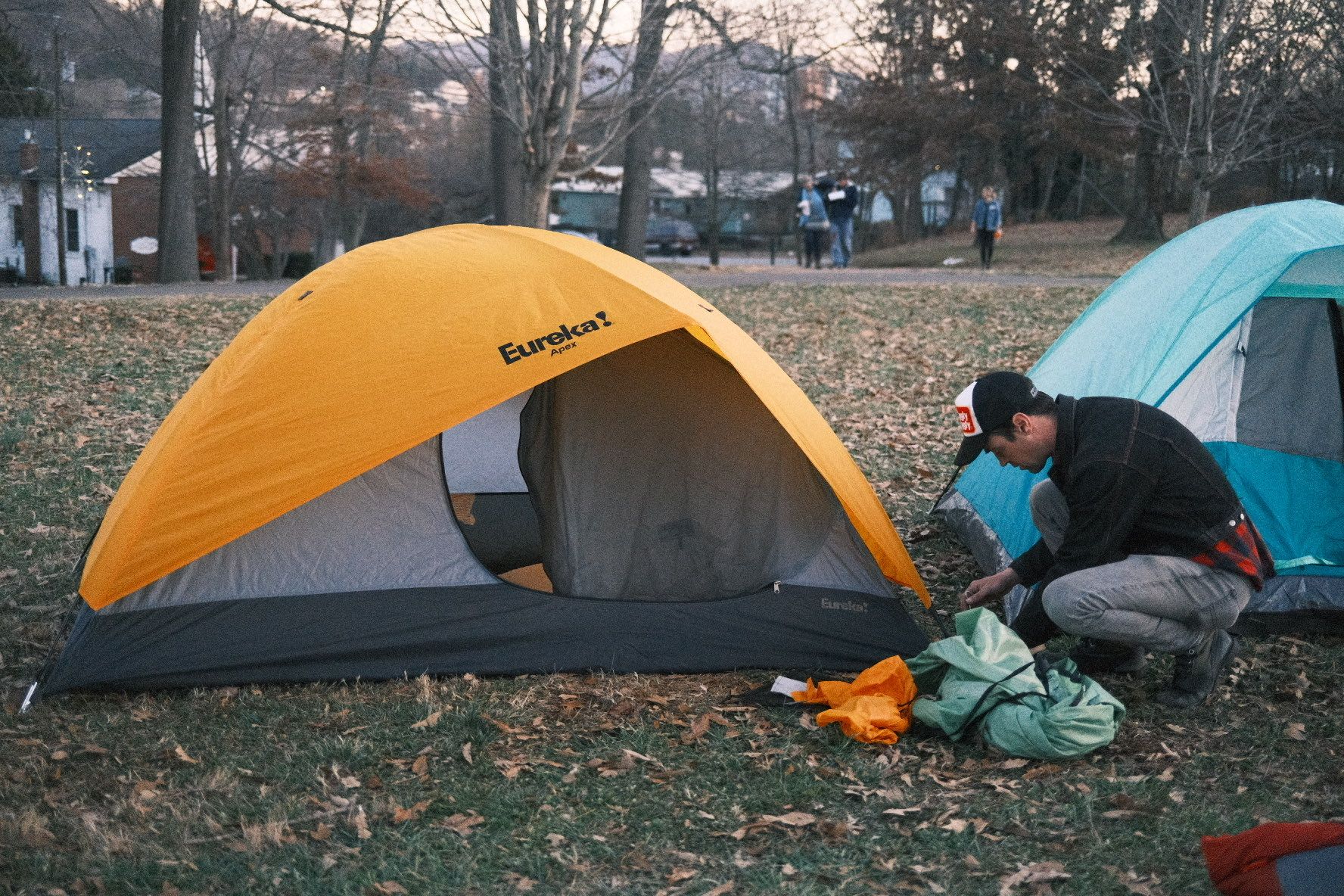 One unhoused community member said of the demonstration, "I'm overwhelmed." When asked to clarify if he meant he was overwhelmed in a good or bad way, the community member said "It's the good kind. This is cool as shit. Maybe one day it will happen."
"I honestly can't believe the cops aren't here right now," another participant said.
Asheville Police vehicles were spotted driving by the location multiple times throughout the day, but it wasn't until just before 10 pm that they made their way into the park. Two APD officers, Sexton and Stapanowitch, approached the campers and told them that they would "try [their] best" to avoid arrests, but that campers would be cited for second-degree trespassing once the park closed at 10 pm.
When asked if they would be providing information on where unsheltered campers should relocate to, officer Stapanowitch again said, "We'll try our best."
"That's not an answer," said one camper.
"I'm not going to argue with you," Stapanowitch retorted.
By 10:40 pm, there were 12 Asheville Police vehicles on-site, including a paddy wagon. Asheville police arrested six individuals, two of whom were there to cover the incident as representatives of the Asheville Blade. All six were arrested on second-degree trespassing charges, a misdemeanor offense.
One community member reached out to us directly and said "[I would] love for the record to state, 2 cops literally blew us kisses after evicting the camp tonight."
As of writing, all six arrestees have been released from custody on the condition that they do not return to Aston Park.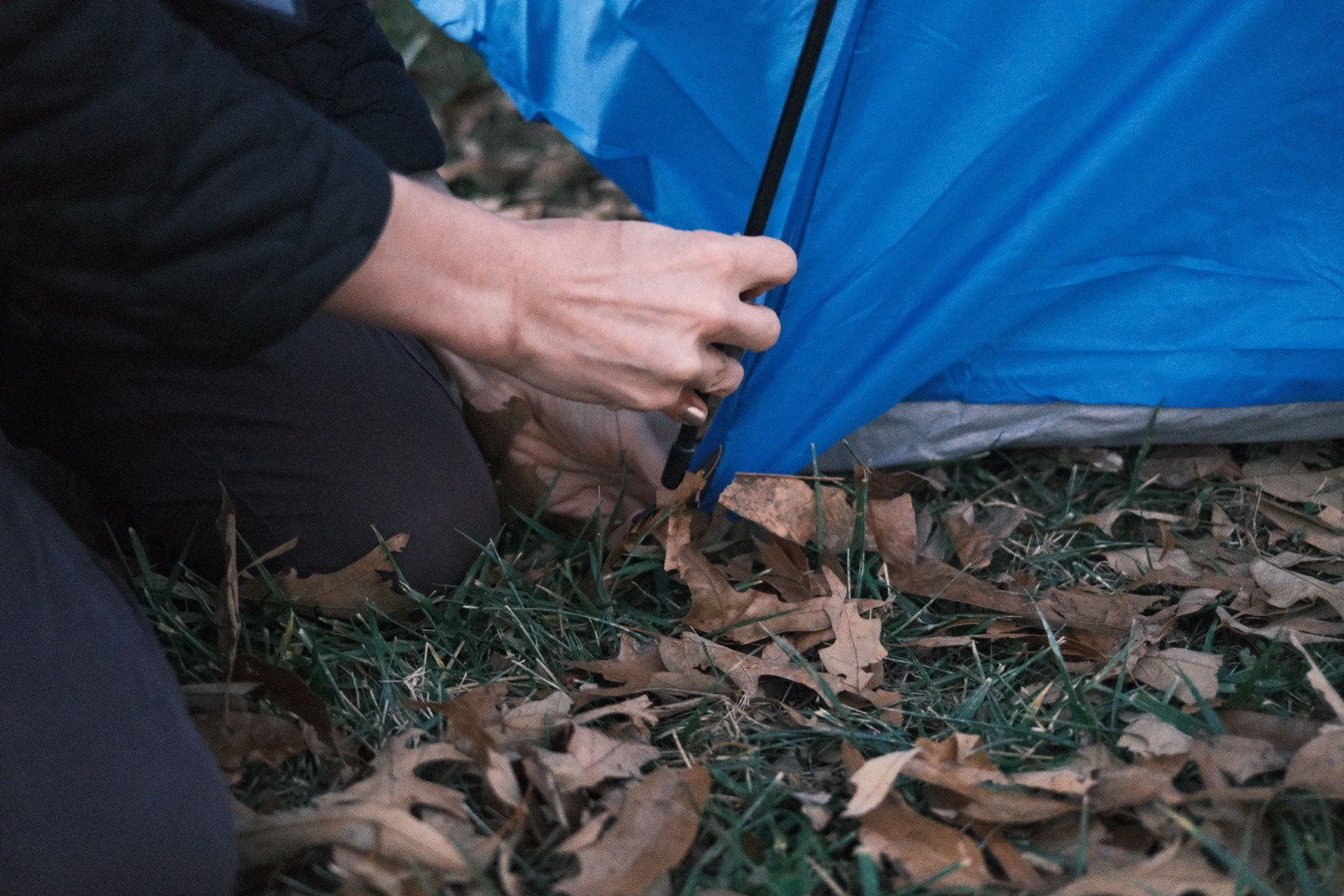 ---
The City of Asheville Refuses Requests for Transparency on Scope of Camp Removal Activity.
For the past several weeks, The Asheville Free Press has been asking City Hall a seemingly straightforward question that nobody seems willing to meet with a straightforward answer: How many times have Asheville Police participated in the removal of unhoused community members from their tent encampments in the year 2021?
After initially reaching out on December 9th, we were forwarded to a communication specialist with the city, Beth Bechel, who said in an email to me, "We are working to juggle several situations so I, along with my colleagues, will be working to coordinate a response to you." The response never came.
Good afternoon Ursula,

My name is Beth Bechel and I work as a communication specialist for the City of Asheville.  It is nice to meet you and I look forward to working with you.

We are working to juggle several situations so I, along with my colleagues, will be working to coordinate a response to you.

There are several departments involved when it comes to our response to encampments.  We are working to gather all the information for you to have a complete story.

Can you tell me what your deadline is?

My contact information is listed below if you have any questions.

Beth Bechel
Communication Specialist
Communications and Public Engagement Department
bbechel@ashevillenc.gov
828-712-1481 - Cell
When we followed up on the question, we were forwarded the city's press release on the removal of an encampment near I-240 and Haywood Street Congregation on December 8th and told to submit a public records request for the specifics on when and where Asheville Police had participated in the removal of encampments. Within 24 hours, that public records request had been closed with APD spokesperson Samantha Booth stating in an email, "the Asheville Police Department does not close encampments."
Good morning Ursula,

The public records request was closed because the Asheville Police Department does not close encampments, we only enforce trespassing laws. Therefore there is nothing to provide.

Respectfully,
Samantha Booth
When pressed further about this technicality, Booth opted not to respond.
We also reached out to City Council member Kim Roney, who has publicly condemned camp sweeps, but she also chose not to respond to either of our two emails on the subject.
So just how many times have the Asheville Police participated in this activity against CDC guidelines? We have several more public records requests currently open in an attempt to piece together the answer to this question, but for now all we have is estimates from community members. Those estimates vary widely, ranging from 12 to 30 to "constantly." The one thing everyone is sure of is that only a handful of these incidents have made it into the local media.
---
Asheville Police Arrested Two Independent Journalists.
Two of those arrested at Aston park on Christmas were representatives of the Asheville Blade, an independent local media project: Matilda Bliss and Veronica Coit. Both were displaying press badges, and people who were on the ground reported that the two journalists were arrested first – preventing them from filming or photographing APD officers making the other arrests.
Coit was previously arrested while covering a protest in the wake of George Floyd's murder during the summer of 2020, a move that landed the City of Asheville on the U.S. Press Freedom incident list.
---
Questions Surrounding Asheville Police Department Policy Remain Unanswered.
Asheville Police Department has a policy that explicitly outlines its approach to encountering unhoused community members. According to the latest version of the policy available online, APD will give encampments seven days' notice to vacate public property. On the evening of December 19th, campers present at Aston Park told us that officers directly contradicted this policy during their encounter, saying it was no longer in effect or did not apply to city property. This claim was repeated by other officers throughout the week.
We reached out to Asheville Police Department spokesperson Bill Davis on December 20th and asked him to clarify the latest version of the policy. In an email response, Davis said, "The new update is being reviewed and should be completed and signed...this week, hopefully." We have not received the new policy as of publishing.
The Asheville Free Press has made several public records requests to clarify both the current policy and the incoming policy update. We will publish further information as we learn more.
---
"A Warm, Happy and Healthy Holiday Season."
The City of Asheville loves to post cute, low-resolution memes and stock photos on its official Twitter account. On Christmas day, they made one such post wishing residents a "warm, happy and healthy Holiday Season." Clearly, this offer does not apply to people who live outside or those advocating for them.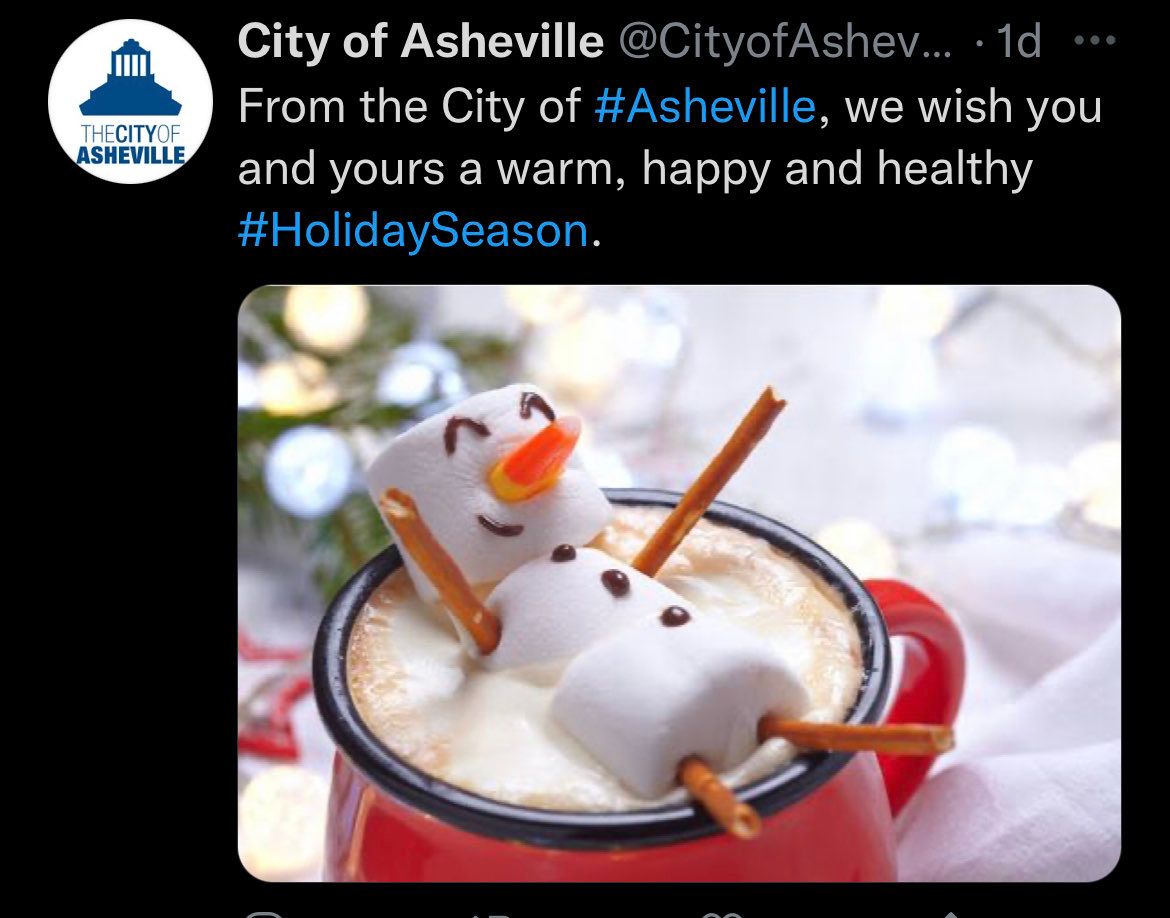 The City of Asheville, despite its messaging, remains intensely hostile to independent journalism, requests for transparency, and our unhoused neighbors – but with the omicron variant on the rise and the perpetual housing crisis, there are likely to be more demonstrations in 2022, not less.
The Asheville Free Press will continue covering these community-led demonstrations and the abuses of power they are met with into the new year.
---
Ursula Wren is a  journalist and editor. She can be reached with questions or tips via email. She tweets from the hip @ursulawren.
We are 100% funded by community members like you. If you like what you just read, help us make more like it by becoming a patron.
Become a Patron!
---