"Rebuke!" is the Asheville Free Press criticism column. It combines evidence-backed analysis with a clear perspective on issues that affect our communities.
On September 23, 2020, amid ongoing demonstrations in the wake of the murder of George Floyd, the Asheville Police Department tweeted, "Protesters have left a casket full of dirt and what we believe to be cow manure at the front door of APD."
The following day, during an interview with WLOS news reporter Caitlyn Penter, the Chief of Police said that this coffin was intended to "incite violence against police."  He would go on to repeat that claim in the New York Times nearly a year later.
"The message was taking a different turn," Chief Zack said. "The message was not about police reform, but, 'We endorse violence against police.'"

- Neil MacFarquhar via New York Times, 6/24/21
Publicly available evidence paints a different story. Protesters made no effort to conceal their intentions, and they weren't violent ones. They communicated this through a digital flyer, chants, and even a brief speech that explicitly stated the purpose of the coffin: "that coffin is for everybody who's been murdered at the hands of police."
---
The Intention was to Honor Breonna Taylor.
The day of the coffin incident, September 23, was also the day that a Kentucky grand jury handed down indictments in the case of Breonna Taylor. In anticipation, organizers distributed a digital flyer on social media calling for community members to meet at Pack Square Park "in protest of the city council budget and in honor of Breonna Taylor." The flyer recommended that participants bring, among other things, "candles" and a "bag of dirt."
Standing outside of the police headquarters for several minutes, protesters chanted "Hands Up! Don't Shoot!" and "Say Her Name: Breonna Taylor!" One protester even gave a brief speech, explicitly stating that the coffin was for Breonna Taylor and other victims of police violence.
"That coffin is not just for Breonna Taylor, that coffin is for everybody who's been murdered at the hands of police."
---
Police Misrepresented Basic Facts About the Coffin.
The original police statement claimed that the coffin was "full of dirt and what we believe to be cow manure."
In footage captured by WLOS during their follow-up interview, the coffin is shown after being cleared of the dirt. While one could interpret the original photo as showing a box full to the brim, this video shows that the coffin had an attached lid, still displaying remnants of the soil poured over it. Protesters were 'burying' the coffin, not filling it up.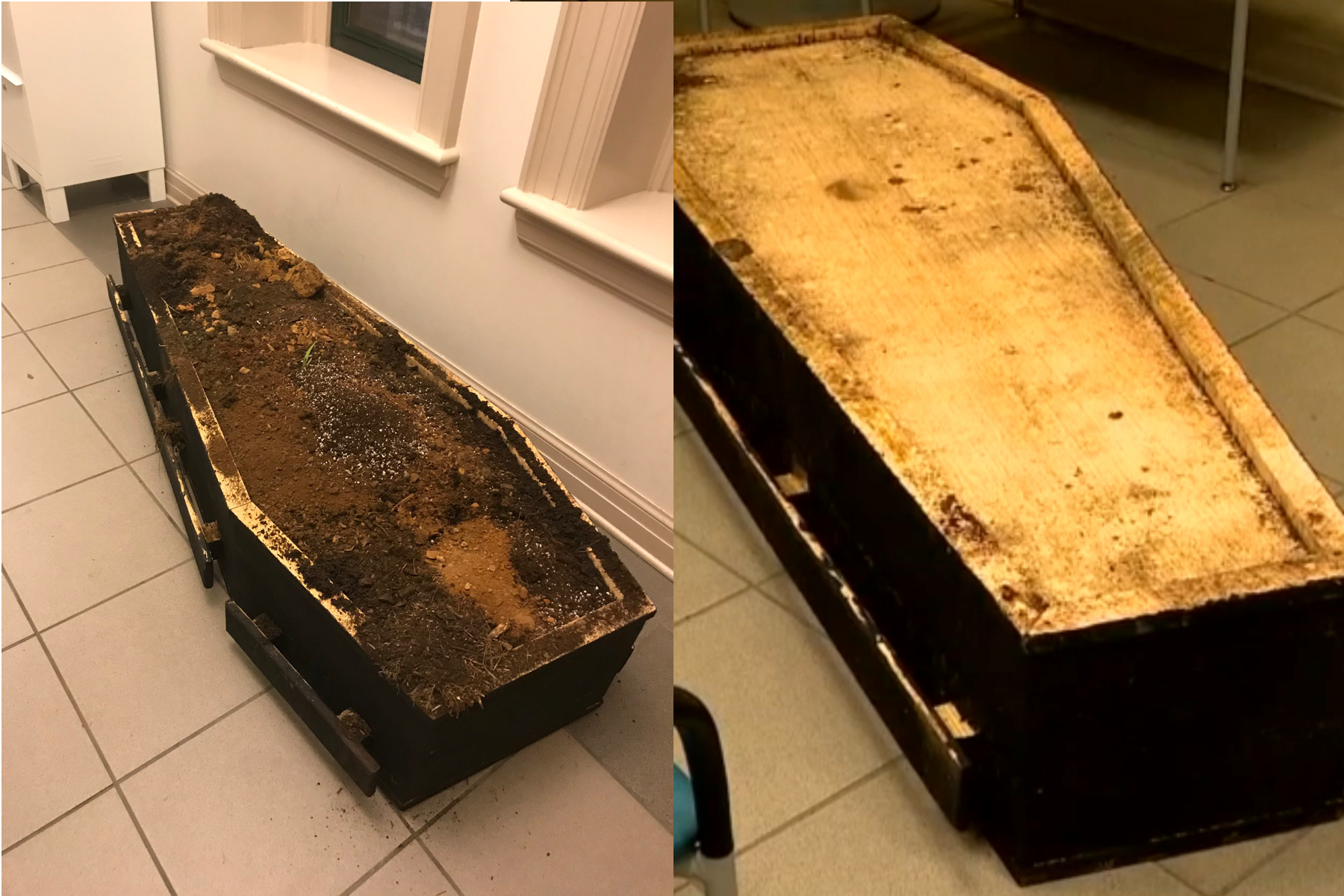 Like many of the thousands of people who retweeted the post noted, a box that size full of soil would have weighed hundreds of pounds more than an empty box with dirt on top. The police moved the coffin indoors from where protesters placed it before taking the photo, giving them ample opportunity to note the weight.
The original photo also shows no evidence of cow manure. However, you can see a small plant and perlite, the white granules of 'volcanic popcorn' that are a common ingredient in potting mix. The Charlotte Observer reached out to an unnamed city official who also clarified that the content of this detritus was "likely just dirt."
"A city official told McClatchy News Thursday morning the coffin's content was likely just dirt"

- Mark Price via The Charlotte Observer, 9/24/2020
---
Fact-Check The Police
Many media outlets will take police statements as truth, altogether forgoing fact-checking measures they would typically put in place. Inaccurate reporting from police has a rippling effect across media and public consciousness. In this case, that's precisely what happened.
Among the thousands of people who retweeted the original post was North Carolina Senator Thom Tillis, who called the incident "disgusting." Mainstream media organizations repeated these claims uncritically. Right-wing media personalities twisted the story and used it to further the narrative the protesters were violent and out of control.
In reality, the coffin was a gesture designed by Black organizers to symbolically bury Black people who's lives were taken by police.
This isn't the only instance of Asheville Police misrepresenting protest gestures meant to honor the dead as threats. Chief Zack invokes the 'tombstones' that activists left outside of council members' homes in his WLOS interview but failed to mention that they were covered in the names of Black people killed by police.
These narratives help foster support for the police during a period of intense scrutiny. This is a classic conflict of interests, and failing to fact-check their statements is journalistic malpractice.
---
Header Photography by Orion Solstice.
---
We are 100% funded by community members like you. If you like what you just read, help us make more like it by becoming a patron.
Become a Patron!
---