Correction: Due to a miscommunication with our sources, we incorrectly reported the number of Union Cards that have been signed. We've removed the number and regret this error.
On Wednesday, June 1, 2022, workers at the Moog Factory in downtown Asheville held an event to announce and rally support for a unionization drive with IBEW local 238.
Through a series of speeches, current and former workers detailed issues they hope to address with collective bargaining: unlivable wages, layoffs that seemed to disproportionately affect marginalized employees, and a lack of contribution to how the workplace operates.
---
Moog's "Employee Ownership" May Not Be What it Seems.

"[The employee-owned label] is not entirely true," said Nathan Hanner, one of the workers who spoke at the event. "It's an employee stock ownership program where the workers have 49% of the stock ownership and CEO Mike Adams has 51%. [...] In effect, we have no way to affect our daily working conditions."
This employee stock ownership program differs from a more democratic form of employee ownership — such as a worker cooperative — in that Mike Adams retains full control over the company's operations. In a worker cooperative, each employee would have an equal stake and vote.
"So, if anybody has bought a Moog instrument and seen that marketing on our packaging, just know you are being misled," Hanner continued.
---
High-End Instruments, Subpar Pay.
Moog is world-renowned for its analog synthesizers. Some of the limited-edition models retail for as much as $10,000. Many of the consumer-level instruments — such as the Matriarch — retail in the $1,500 to $2,000 range.
Jack Dahnke, a production validator who works on approximately 11 Matriarch synthesizers per day, said "It's embarrassing to sit through effectively 9 hours a day, working through instruments that I could not pay for."
The circuits which create the characteristic Moog sound are hand-wired in Asheville, and the workers emphasized that building, testing, and supporting these instruments is highly-skilled work.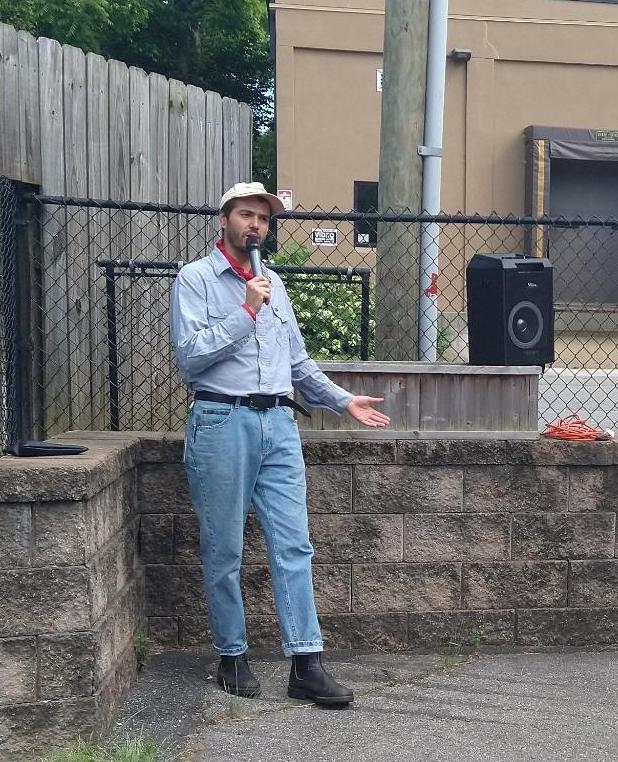 ---
What's Next for the Union Drive?
The first step is for interested and eligible employees to sign a "Union Card." This card is used to demonstrate a legitimate interest in being represented by a union to the National Labor Relations Board (NLRB).
Once more than 30% of the eligible workers have signed a card, the union can petition for a "secret ballot" election with the NLRB. If a simple majority of the workers vote in favor of the effort, Moog will be compelled to acknowledge the union. Moog could then challenge the results, but otherwise, the process of collective bargaining for a new employment contract would begin.
Alternatively, Moog has the option to voluntarily recognize the union.
The organizers said in an email to the Free Press, "we hope Moog welcomes this union effort. There are many things we love about this place; it is why we are investing and trying to make it better."
---
A Statement from the Union
The following is an excerpt from the Moog Workers Union's press release about the event, which details some of the issues they aim to address:
"Employees seek to address unlivable low wages, achieve a voice in the company, and gain just-cause employment protections. They also seek to set precedent by unionizing a manufacturing facility in the south. North Carolina is the second least unionized state in the nation, with just 2.6% of workers organized. Moreover, in 2021, Oxfam ranked North Carolina as the worst state in the country for wages, worker protections, and rights to organize.
In 2015, Michael Adams, owner and president of Moog Music, sold 49% of the company to employees. The subsequent seven years have made it clear, however, that employee ownership falls short with regards to providing stable livable employment. The starting hourly rate at Moog for assemblers, packers, and warehouse workers is $14.10/hour. In Asheville, a living wage is $17.70/hour, the highest in the state due to its tourism economy and status as a destination for retirees and pandemic transplants.
Jack Dahnke works the final calibration station on the Matriarch line noted "every single instrument I pass through my station sells for more than my monthly take home wages and I'm expected to go through 11 daily."
Aubrey Young has worked on the production floor for close to two years, leads two lines and says he has "yet to make above $16.46/hr. My lines have made thousands of instruments"
Fourteen people have been laid off in the last few months and the layoffs disproportionately included people of marginalized identities. Prior to the layoffs, the company was approximately 9% people of color, 6% trans, and 70% cis white men. Of those let go, 29% are people of color, 21% are trans, and 35% are cis white men. Four of the fourteen had been vocal in challenging executives during company meetings. Two had begun the unionization effort and were a part of the Volunteer Organizing Committee at Moog.
The company also recently settled a gender discrimination lawsuit filed by Hannah Green, a former employee in the sales department."
---
Reporting by Elliot Patterson. Summary / Words by Ursula Wren.
📰
We are 100% funded by community members like you. If you value our independent local journalism in service to liberation, you can help us make it. Click here to become a patron today! Or send us a one-time gift via Venmo @avlfreepress.