"Is there anyone here who can identify with the word 'country?'" asked the banjo-wielding singer perched on a stool at the Double Crown in West Asheville. The audience — a small sea of cowboy hats, fishnets, bolo ties, and patch-covered denim jackets — cheered in response. "Who can identify with the word 'queer?'" the singer asked, eliciting an even larger response.
"Alright, I'm Connie Page Henshaw,"  they said, a grin spreading across their face as they began plunking out a clawhammer tune. "I'm going to play some songs for y'all."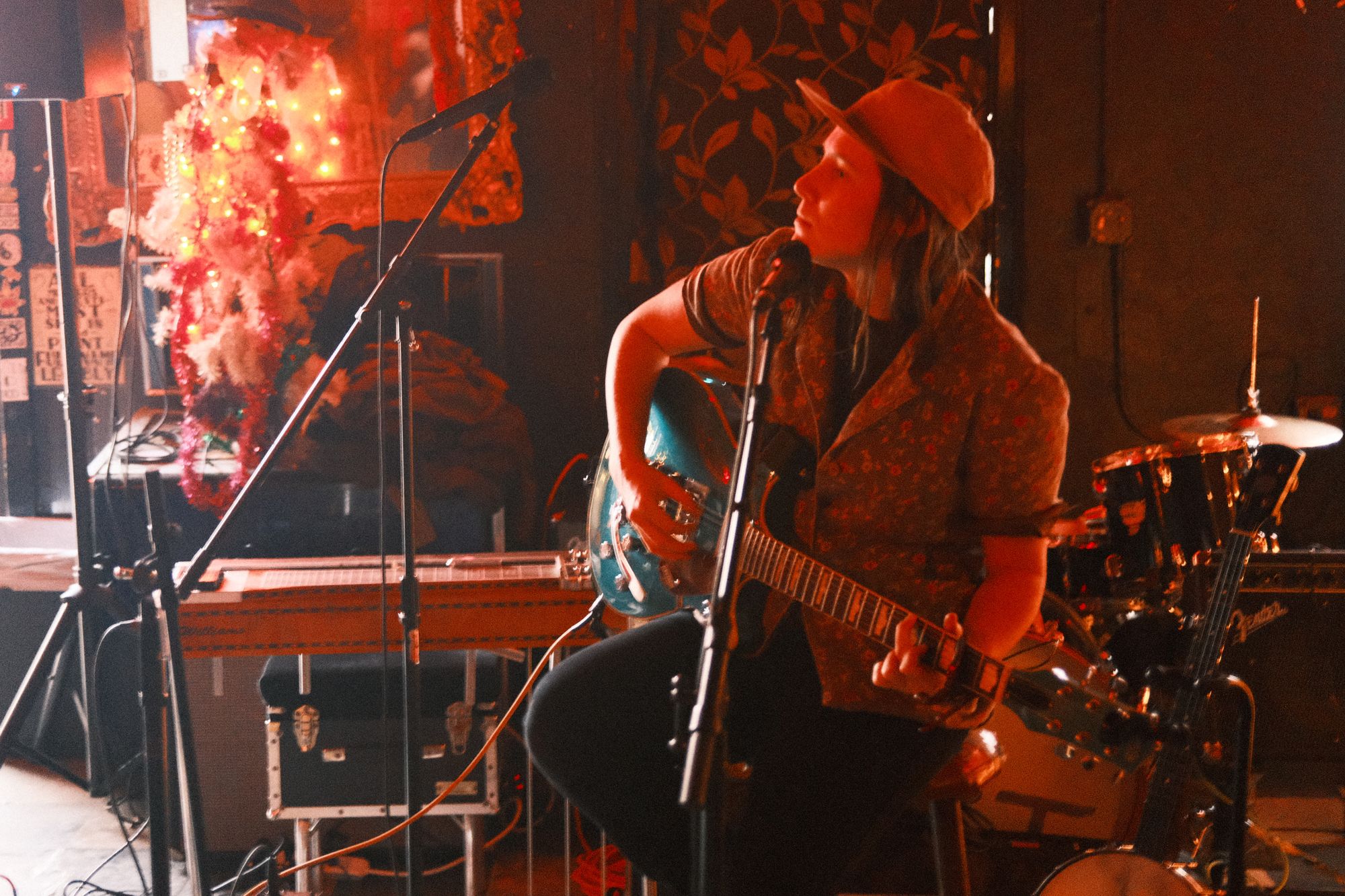 Henshaw was the first of three acts to perform at the Double Crown on Saturday, March 26, 2022, as part of the Pansy Collective's Queer Country showcase.
The event was a benefit held to raise funds for the fifteen people currently facing felony charges in connection to a protest at the end of 2021. The largely queer and working-class defendants need more than a thousand dollars each to mount a defense against the retaliatory charges. Despite this heavy subject matter, the atmosphere was light.
Outside, people tapped their toes, laughed, and smiled. They sat dispersed among a smattering of picnic tables and old restaurant booths, enjoying hot BBQ and classic sides like baked beans and coleslaw, served by a new operation called Dirty Dishes on a donation basis. There were even vegan options, in which this reporter happily partook.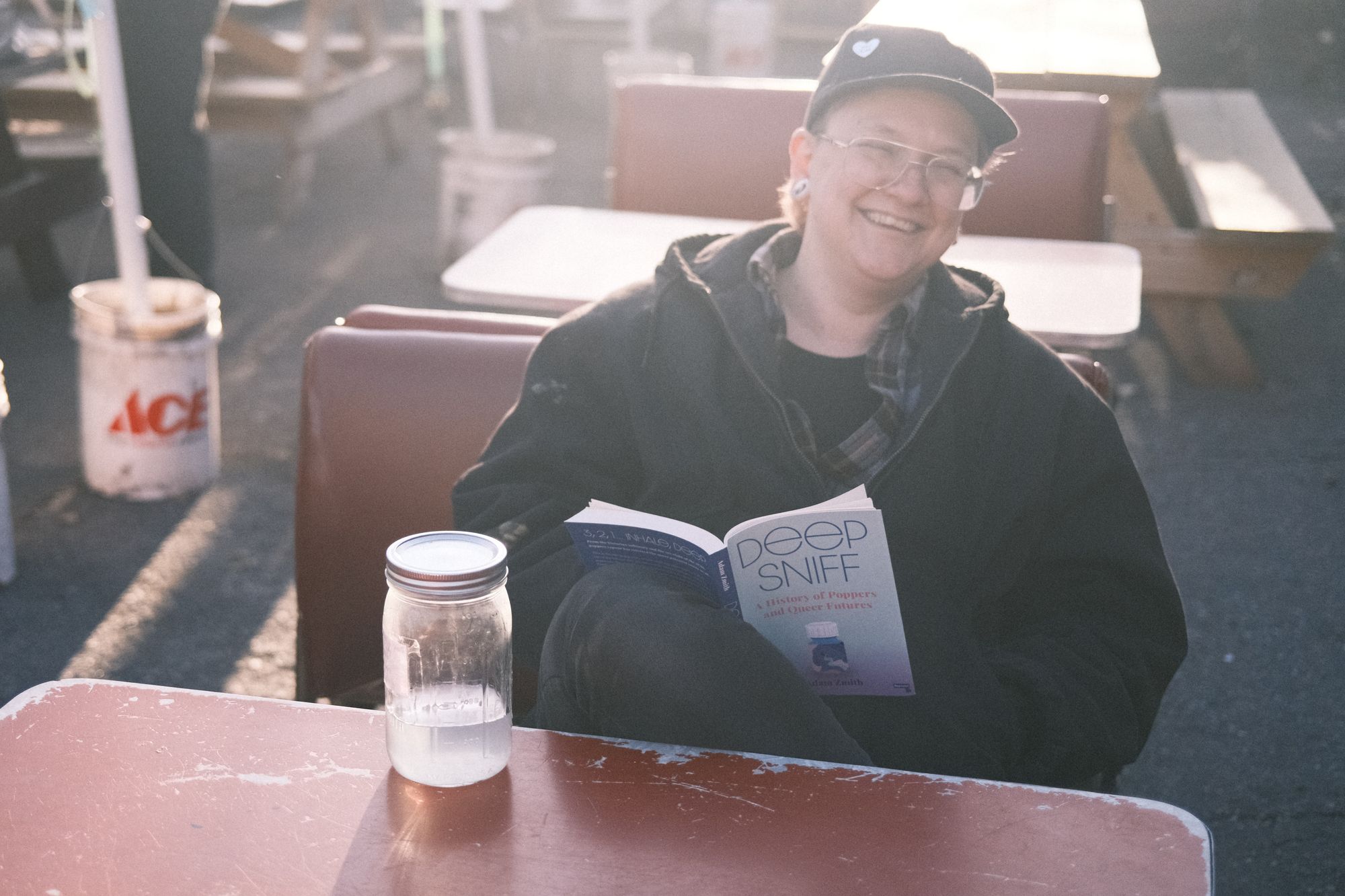 Beside the building, Syndicate Press screen printed T-shirts. Two clotheslines stretched the length of the building, where the shirts hung to dry. A cheeky reference to the Aston Park defendants, the design reads, "I went to an art party, and all I got was arrested."
Getting caught up in the legal system can be a scary and isolating experience. But the Queer Country benefit showcased a culture of solidarity. Through food, music, dancing, and jokes, the event rallied community care and support in the face of it all.
---
Cowpunks and Cornbread Queers
Orville Peck, the masked crooner who is arguably one of Queer Country's biggest stars, has a background playing drums for punk bands. Asheville's burgeoning Queer Country scene shares similar roots.
Pansy Collective, the organizers of the Queer Country benefit and the eponymous Pansy Fest, is probably best known for their DIY punk sensibilities and anarchist politics.
But, "we've always been a mixed-genre group," said Beck, an organizer with the collective. "We've been wanting to do a Queer Country show."
"Country music originated as the music of the working class," said Payton, another Pansy organizer. "I think Country is just as relevant to the anarchist movement as punk and hardcore."
At the Queer Country benefit, the overlap between Country and Punk was impossible to miss.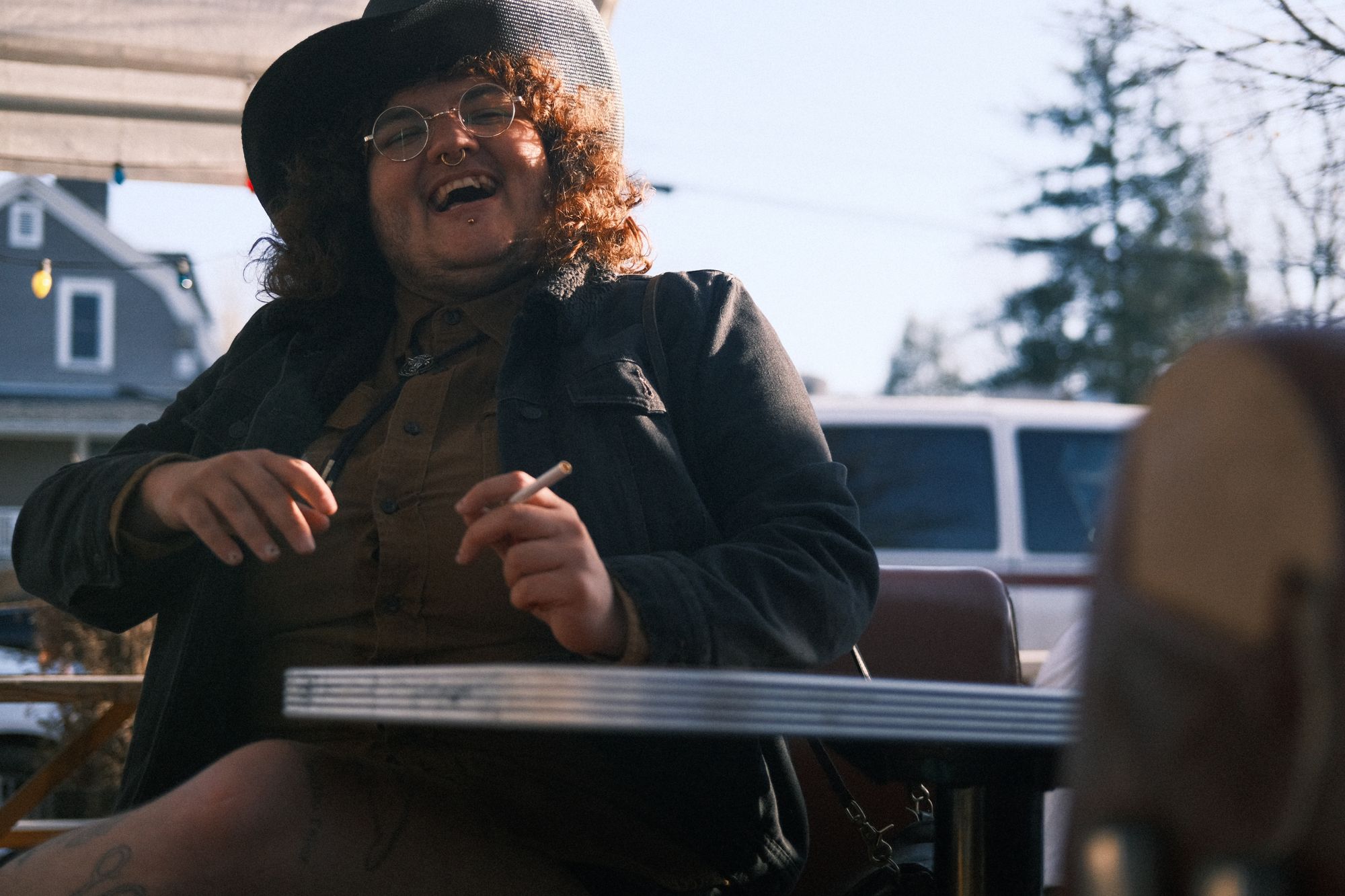 ---
The Performers Brought a Range of Country Sounds
While Connie Page Henshaw's lilting clawhammer banjo harkens back to Appalachian-inspired "Old Time" music, the benefit's performers ran the sonic gamut of Country.
Newport Transplant, an Athens-based band, brought an upbeat, twanging, full-band sound to the show. Their Bandcamp page describes the group as "sci-fi folk songs and wild western whimsy, somewhere between honky tonk and punk rock."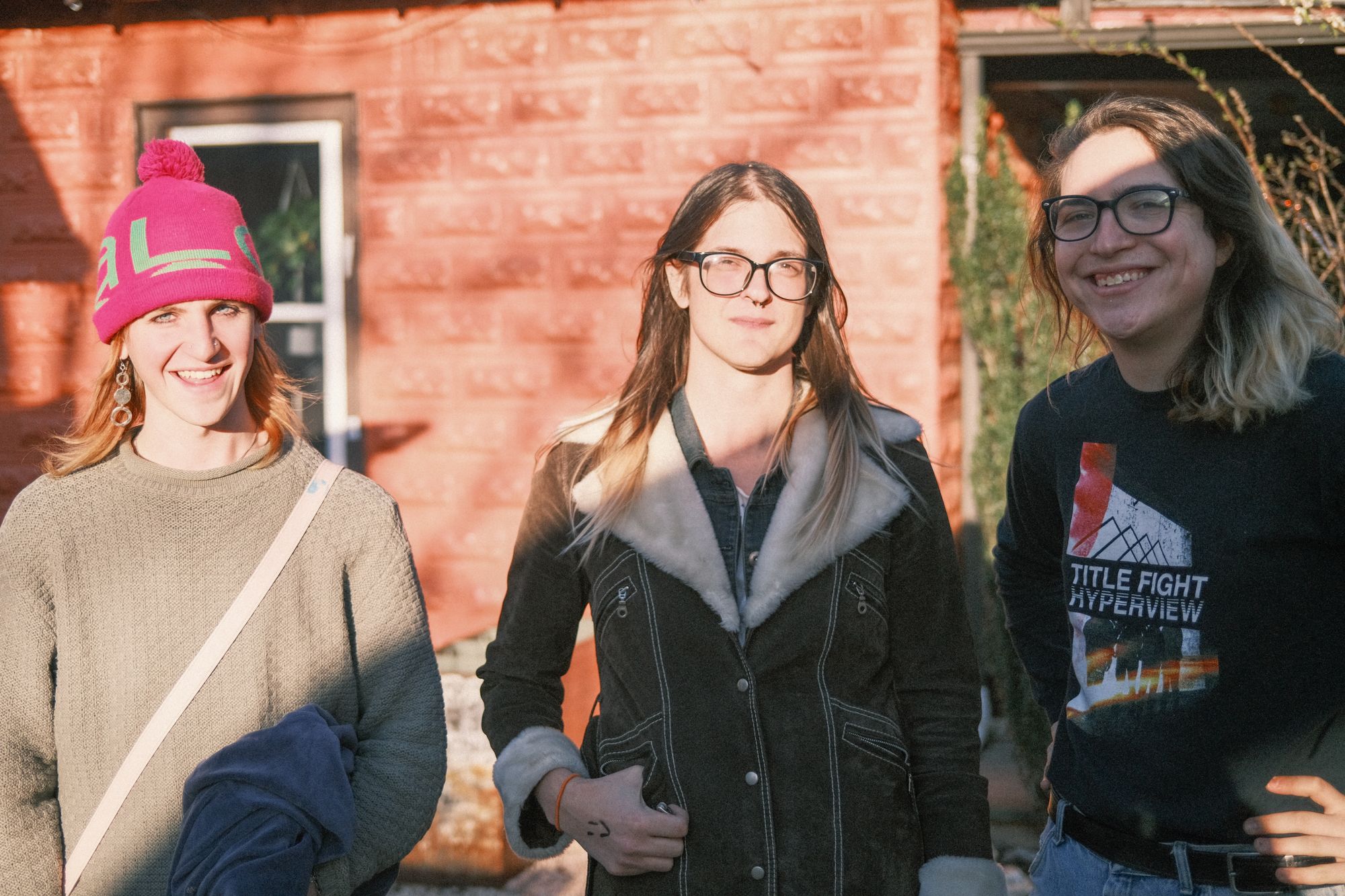 Lo Wolf, an Asheville-based singer-songwriter the evening's closer, brings a slower, more intimate style to the genre. While she played solo with an acoustic guitar at the concert, her 2020 debut, Singe, incorporates electric guitar, harp, and mellow full-band arrangements with her deeply personal songwriting style.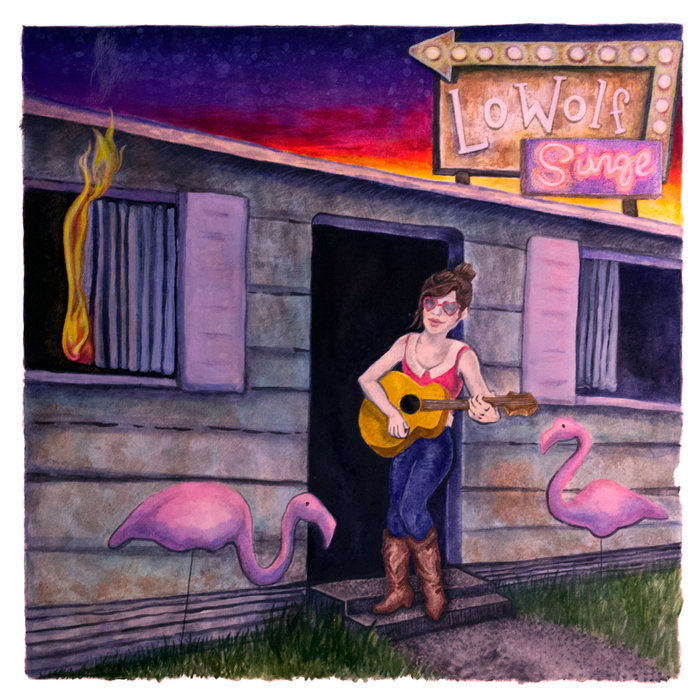 ---
Country Music's Reckoning
Queerness and Country music might seem like an unusual combination to the uninitiated, but the genre owes a lot to the communities it has marginalized.
Country music would not exist without the direct influence of Black artists, who were historically relegated to a "Race Music" or "Rhythm and Blues" label despite the clear sonic overlap with, and impact on, Country music. The banjo, as Henshaw pointed out at the beginning of their set, is an African instrument.
Country music owes a lot to the communities it has marginalized... [it] would not exist without the direct influence of Black artists.
While modern Country radio and CMT are still overwhelmingly white, male, nationalistic, cis, and straight, many of the genre's advocates will not tolerate the continued marginalization of those who are not.
Modern Black artists such as Rhiannon Giddens and Lil Nas X have racked up Country music acclaim, whether their sound breathes new life into traditional instrumentation or takes the genre in a wholly new direction. Indigenous Country artist Tracey Bone believes that Native people are better positioned to return to the genre's original storytelling roots than the white "bro-country" that dominates the charts. And there is the new vanguard of Queer Country, which aims to bring gender diversity and queer love to the genre. Black queer artists like Amythest Kiah are pushing boundaries on multiple fronts.
These have not all been welcome developments by the Nashville establishment which runs the country music industry. They famously attempted to snub Lil Nas X's megahit "Old Town Road" until a white Country star got involved. You'd be hard-pressed to find a mainstream radio station playing Orville Peck's "Drive Me, Crazy," a gay trucker ballad. But there's an argument to be made that the rebellious attitude it takes to fend off the current industry's conventions is just as integral to the genre's identity as banjo and storytelling are.
---
The Event Raised More Than $2,500 for the Defendants
Ultimately the event was a huge success, with an employee of the Double Crown reporting that the turnout rivaled the venue's biggest regular events. The defendants fundraised more than $2,500.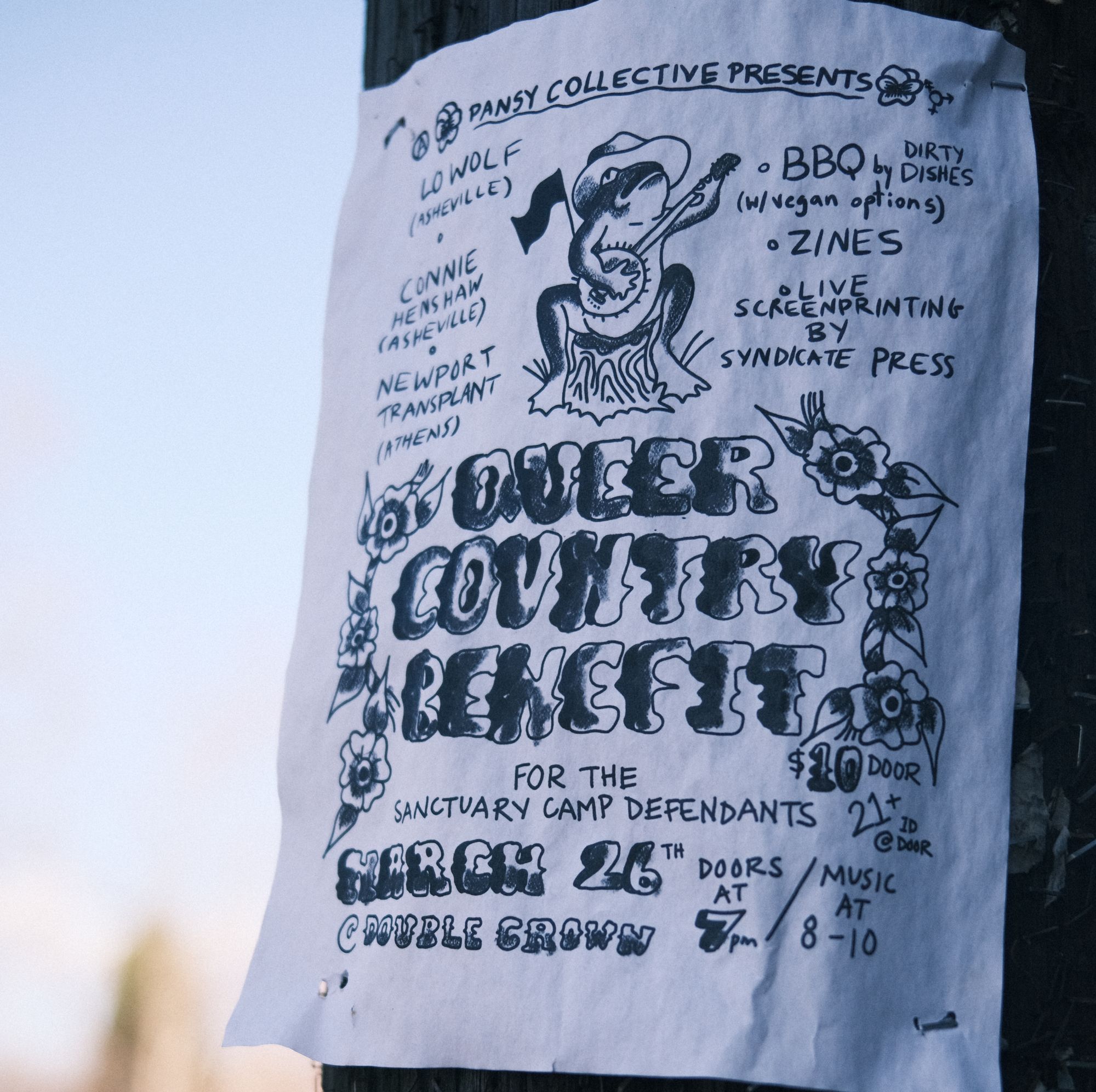 The Asheville Queer Country scene is small but growing, and Asheville — with its lively music scene, southern Appalachian scenery, prominent Queer, Social Justice, and Anarchist cultures — could just be part of Country music's next big thing.
---