As of March 15, 2022, fifteen* individuals have been charged with "felony littering over 500 lbs" or "aiding and abetting felony littering" in connection to a demonstration that occurred the week of Christmas, 2021. The goal of the protest was to criticize the City government's policy of evicting homeless encampments in violation of CDC guidelines during the pandemic, and it called for resources including trash service and public restrooms to be made available at public parks. Asheville Police Department (APD) alleges that the protest action resulted in "between 1,000 and 2,200 pounds of litter and refuse" and that cleanup "cost the City of Asheville an estimated $2,680."
*Update: The number of defendants has since grown to sixteen. Some defendants were charged with 'aiding and abetting felony littering.'
These charges are extremely rare. According to data from the Asheville Police Department, the last arrest for felony littering in Asheville occurred in 2012. Data from the North Carolina Judicial Branch only shows a single felony littering case in Buncombe County as a whole in the past decade.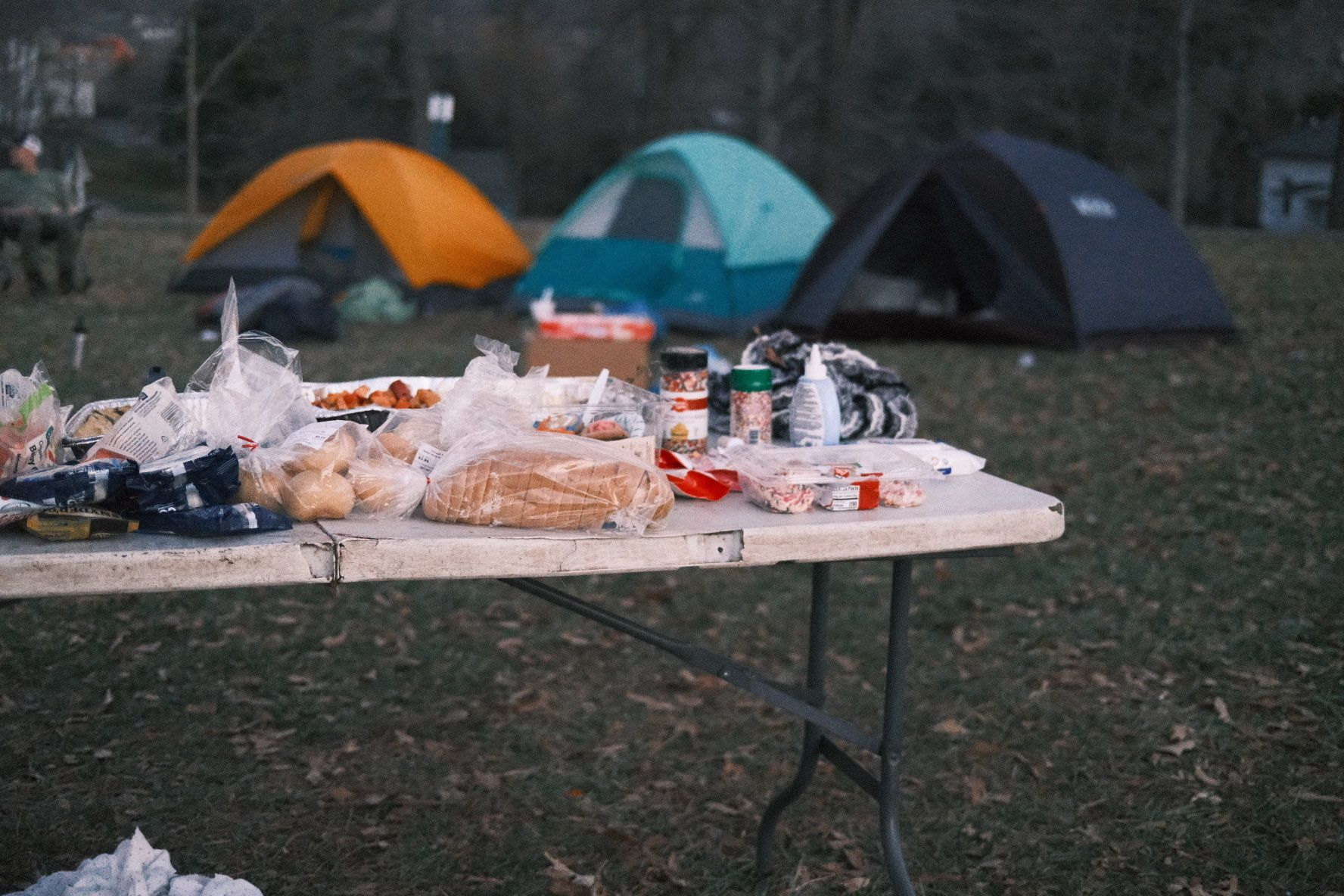 At the time of writing, all but three of the fifteen individuals charged with felonies have additionally received a letter from APD informing them of a ban from all City Parks and Recreation facilities — effective for three years — due to "Commission of a felony and/or repeated commission of misdemeanor offenses."
The letter states that they could be arrested for trespassing if they enter any city park or recreational facility. None of these individuals have yet been convicted of the related charges. Four recipients were unaware of pending charges before receiving the letter but voluntarily turned themselves in once notified.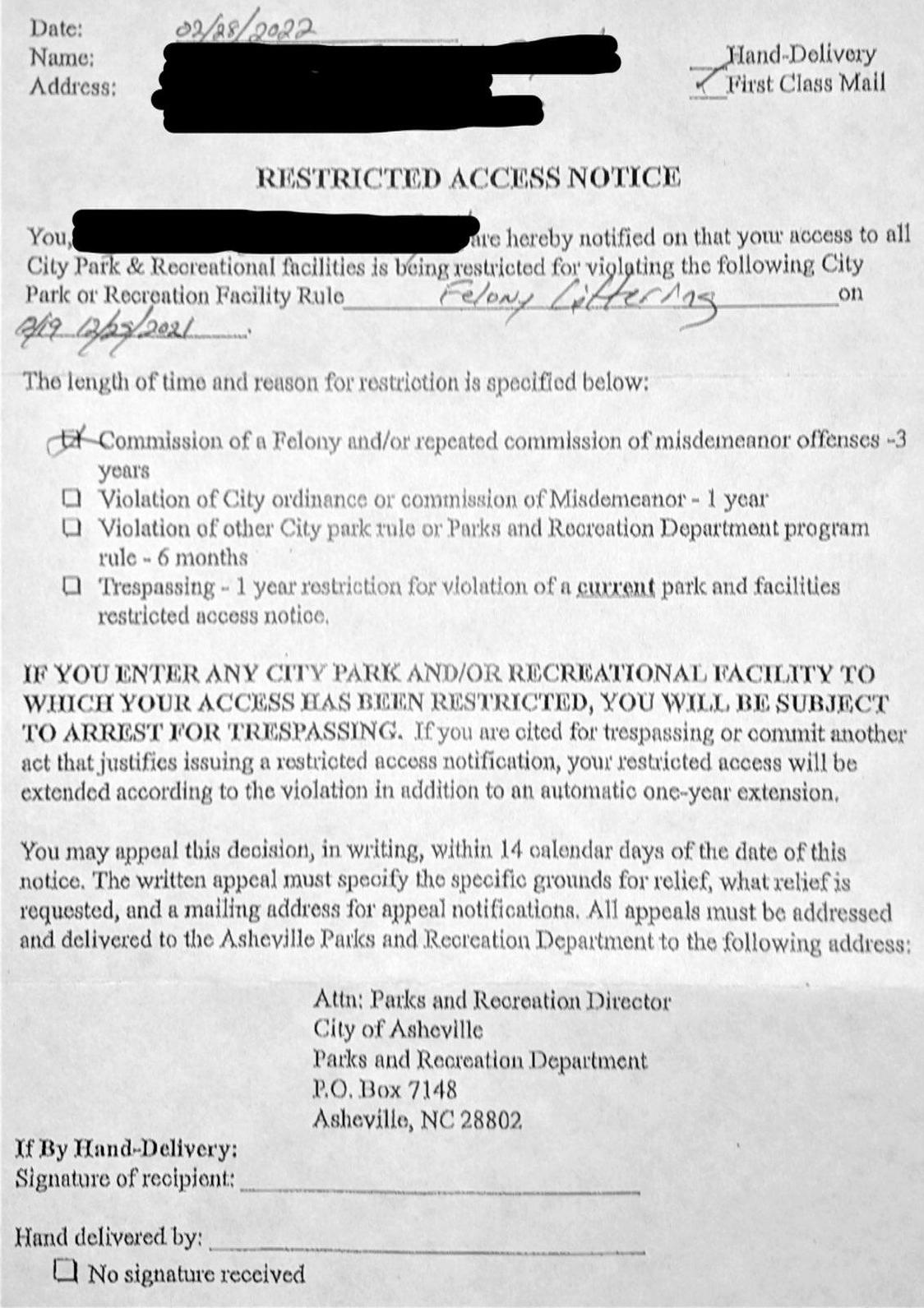 In addition to the "Restricted Access Notice" letters, five of those arrested were given a condition of release which prohibited their entry to Aston Park. According to one defendant's attorney, this type of conditional release is common for sex offense and drug charges.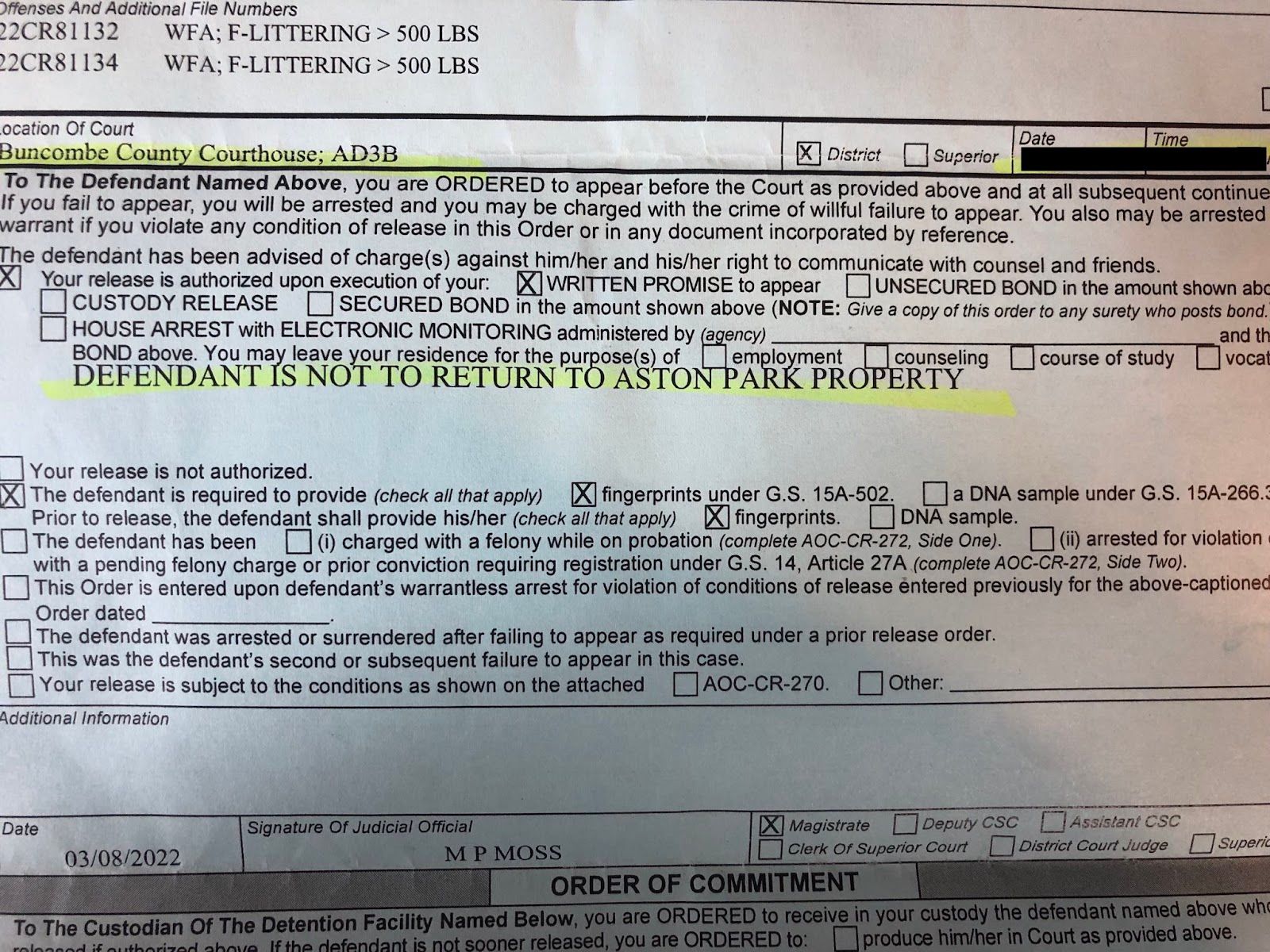 In a statement, the defendants said that these felony charges are an attempt by APD and Asheville City Council to destabilize mutual aid work in Asheville. The defendants believe these charges target the "Streetside" mutual aid working group specifically, part of the Asheville Survival Program (ASP). Since March 2020, "Streetside" volunteers have gathered in downtown parks to serve hot meals and provide supplies to unhoused Asheville residents two to three times per week. These bans effectively criminalize their work.
---
Mutual Aid and Housing Protests
While the defendants are banned from entering any park or recreation facility owned by the City of Asheville, one park location, in particular, is significant due to its connection to mutual aid work and housing protests: Aston Park. ASP's Streetside program regularly meets and distributes food and supplies at Aston Park. It was also the site of a city-sanctioned campsite in early 2021, evicted in April of that year. This eviction met resistance from community members and activists, who say they were present at the request of unhoused residents.
Because of these connections and in conversation with unhoused community members, protesters chose Aston Park in December 2021 as the site for a multi-day demonstration and attempt at setting up a sanctuary camp.
"We will not be silent in the face of repression."
— Aston Park Defendants
The December 2021 demonstrations took the form of community "art parties" in which locals gathered to paint signs and share food. On Christmas Day, Asheville Police demanded that protesters leave the park at 10 pm or face arrest for second-degree trespassing. Protesters decided to remain and hold the space for sanctuary camping. Six individuals were arrested, charged with second-degree trespassing, and banned from all parks as a condition of their release. Two of those arrested were journalists from the Asheville Blade present to cover the event.
---
APD and City Council Seek to Dismantle Mutual Aid Project
On Tuesday, January 11, APD officer Mike Lamb gave an hour-long presentation to City Council in which he blamed temporary homeless encampments for nearly all crime occurring in downtown Asheville.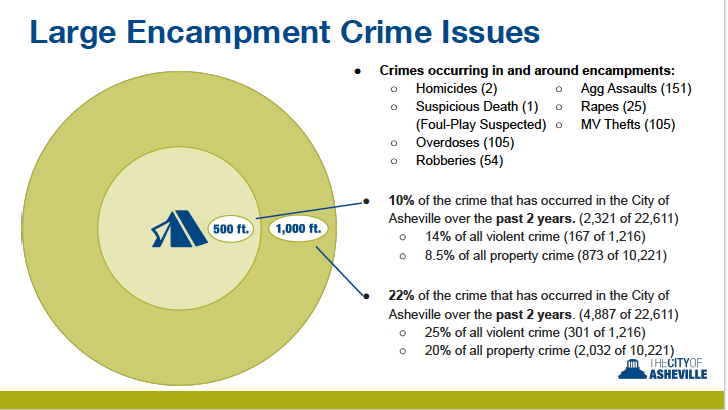 The Asheville Free Press requested documents to support Mike Lamb's presentation and conducted our own analysis of available crime data. As described in our analysis, "The public records released to us do not substantiate APD's claims due to significant inconsistencies." Similar crime percentages can also be found within 1000ft of downtown bars or hotels. In short, crimes happen where people are and people are downtown. APD did not prove that homeless people had any involvement in any of the crimes they cited.
Regardless, City Council was duly alarmed. In late January, The Asheville Free Press revealed that City Council was discussing a potential ordinance that would essentially ban food sharing in public parks during their private check-in meetings.
The arrests of community activists for "Felony Littering" began the Friday following the presentation to City Council, which disingenuously connected crime and homeless encampments. Despite complaints of inadequate funding and demoralized staff quitting in droves, APD found the resources to investigate and prosecute an obscure felony, and they are casting a broad net.
Per the defendants' statement,
"The city government claims we are each responsible for leaving behind more than 500lbs of trash following a peaceful protest. APD claims this resulted in 100 hours of "cleanup efforts," the use of heavy machinery, and a cost of $2,680.
Over the past three months, the taxpayer dollars and time expended surveilling, harassing, arresting, and now prosecuting the defendants has vastly exceeded the damages claimed by APD. How many of the same resources and heavy machinery have been employed by the City and County government to remove and destroy homeless camps in the last year alone?
These actions are not an effort to make our City safer; they are an attack on mutual aid.
…This act is one of many in a campaign against our ability to conduct weekly food shares in parks and aligns with the City's broader attempts to restrict food access in public spaces across the City."
The defendants have created a website to share their statements, contact information, and further information about their case: https://avlsolidarity.noblogs.org/
---
Elliot Patterson is a data journalist, graduate student, street medic, and reporter for The Asheville Free Press.