A June 21st meeting hosted at ISIS Music Hall saw a group of pro-police business owners dialog with several city officials, including Mayor Esther Manheimer. Attendance was limited to business owners, most of whom received the invitation via email. The private meeting ended with promises for city officials to look into the demands made by the group. These demands included more vocal support for police from City Council and closing public spaces where constant police presence is not possible.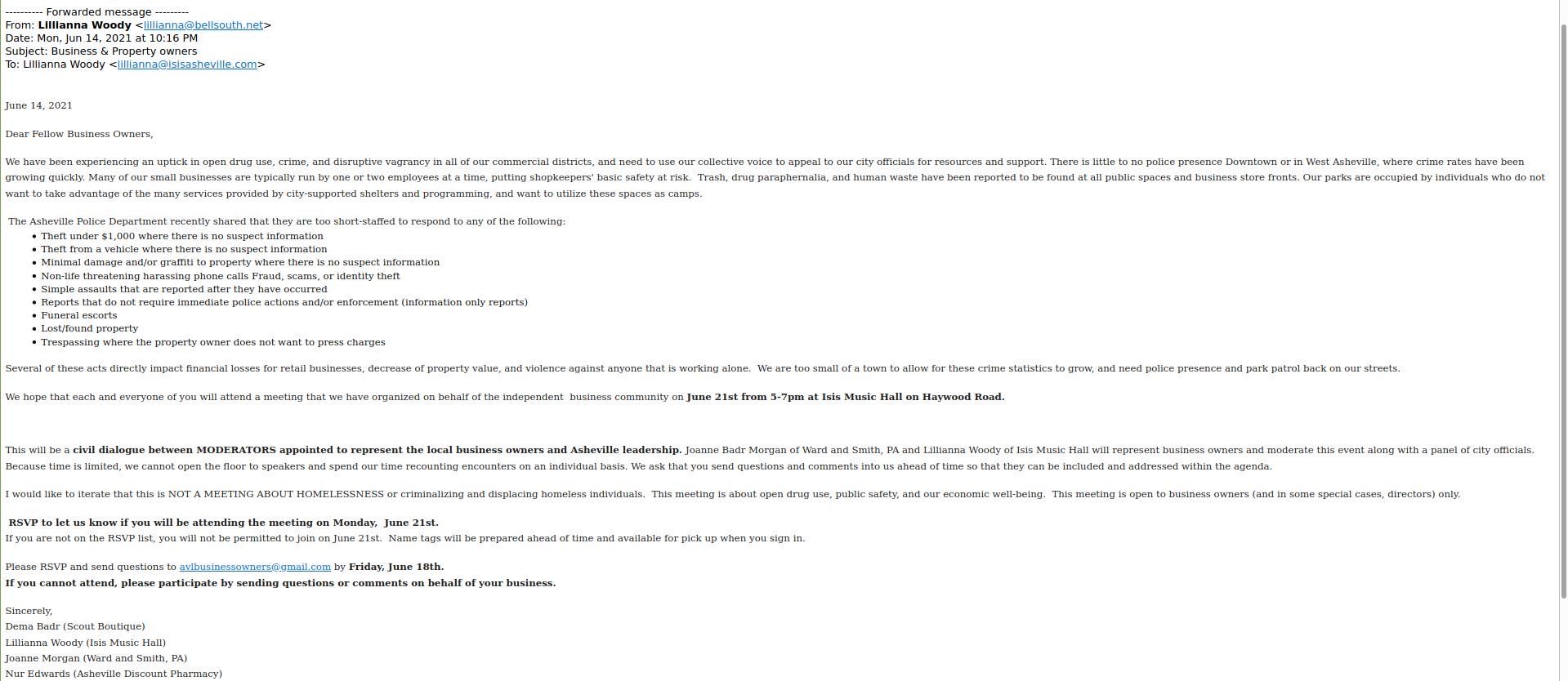 Joanne Badr Morgan, a commercial real estate lawyer with Ward and Smith, acted as moderator for the event. Her intention, she said, was to speak on behalf of the attendees who had been allowed to submit written comments beforehand. Dema Badr of Scout Boutique, Lilliana Woody of ISIS Music Hall, and Nur Edwards of Asheville Discount Pharmacy were also listed as organizers. Dema Badr is Morgan's sister, and their family owns Asheville Discount Pharmacy, where Nur Edwards is the pharmacist.
Representing City leadership were: Mayor Esther Manheimer, Assistant City Manager Cathy Ball, Economic Development Specialist Rachel Taylor, Interim Director of Community and Economic Development Nikki Reid, Solid Waste Division Manager Jessica Foster, Interim Parks & Recreation Director Peggy Rowe, and Development Specialist Dana Frankel. According to the Mayor, council members Kim Roney and Sage Turner were also in attendance but were not part of the forum.
Morgan led off the conversation with a list of grievances and anecdotes that she said came from the audience, which was comprised of business owners from around Asheville. These anecdotes focused on unhoused individuals and included accusations of public indecency, drug use, verbal and physical assault, alongside stories of littering and what she termed 'visual assault.' Morgan said that these incidents were making it harder for downtown businesses to survive.
---
The Group Wants City Council to be More Vocal in Support of Police.
One of the two key demands put forward by Morgan on behalf of this group was that City Council be more vocally supportive of police.
"We saw, as a nation, last summer, people upset and rioting about police brutality. We don't want police brutality; we don't want anyone breaking the law. At a time when we were in crisis, we should have rallied around our police and said, 'Hey, what do you need so we don't become them?' […] We didn't have a Derick Chauvin," Morgan said.
No sitting member of City Council has been vocally critical of the Asheville Police, policing as an institution, nor have they endorsed defunding the police. Instead, city officials have endorsed "reimagining public safety," a project that integrates more training and specialized divisions into the existing structure of policing.
"Tomorrow night [June 22nd, 2021], City Council is voting on a budget that provides significant pay increases for our police department," the Mayor said before she was interrupted by applause from the audience."I can tell you we mostly don't hear from people who are supportive of it, but we know that in the aggregate, there are a lot of people who don't come to those meetings, and are people just like you, that are supportive of it."
"I can tell you we mostly don't hear from people who are supportive of [giving the police a raise], but we know that in the aggregate there are a lot of people who [...] are supportive of it."
- Mayor Esther Manheimer, at a private meeting with Asheville Business Owners group, 6/21/21
The following night, City Council voted 6-1 to approve the budget, including said raises for police. Kim Roney was the only council member opposed.
---
The Moderator Demands Full-Time Police Presence or to Shut Down The Parks.
"Right now, they're just a cesspool," Morgan said of the public parks. "[Unhoused individuals] are having food delivered to them - which in no way helps their lives. I mean, I know it feeds them a meal, but we need more long-range solutions […] So, they get a meal delivered; they obliterate it, there's litter and trash everywhere, there's needles everywhere, there's feces, they're heckling people […] I mean, everyone says that everyone should be able to enjoy the parks, but no one else is able to enjoy the parks."
Ball clarified, "And I'm assuming you're talking about Pritchard park?"
"I'm talking about Pritchard park and probably any park, honestly," Morgan replied.
Pritchard Park has long been a battleground on issues of access and use of public space. In 2017, there was a contentious fencing and landscaping initiative on City Council's docket, which was criticized as an attempt to keep unhoused individuals out of the park.
"All we heard was 'you're making changes to this park that will inhibit people from being able to use it, and that's bad,'" the Mayor said of that 2017 initiative.
Morgan didn't budge. "When you lead, you lead. And there are people who are going to have opinions all day long, but if it doesn't help the greater good, it doesn't matter."
"We did vote to make the changes," the Mayor responded, "regardless of what we heard."
"If you don't have the police force to man the parks, which you don't, shut them down," said Morgan.
---
The City Offered some Other Potential Solutions.
Mayor Manheimer said criminalization of these issues is not always the best way forward. She offered some other initiatives that the city is looking into, including more public restroom facilities, a CAHOOTS model crisis-intervention team, and city-paid outreach coordinators.
These potential initiatives did not sway Morgan. "I think the answers are too difficult and complicated, and before we can figure out the answers, we need to deal with the short-term bleeding."
To her, that means more aggressive recruitment of police, more public support for them, and more police presence.
---
What's Next for this Group?
During the meeting, Assistant City Manager Cathy Ball vowed to look into the proposals made by the group. When Morgan asked the Mayor what the group should be doing to further their cause, the Mayor suggested that Morgan run for City Council.
On August 1st, the group intends to place blue ribbons on the doors of their local businesses to show support for police, as reported by WLOS.
The group is also responsible for a billboard that went up on Patton Ave in West Asheville on July 19th. The billboard design reads, "Thank you Asheville Police Department. We Support And Appreciate You! - Asheville Business Owners"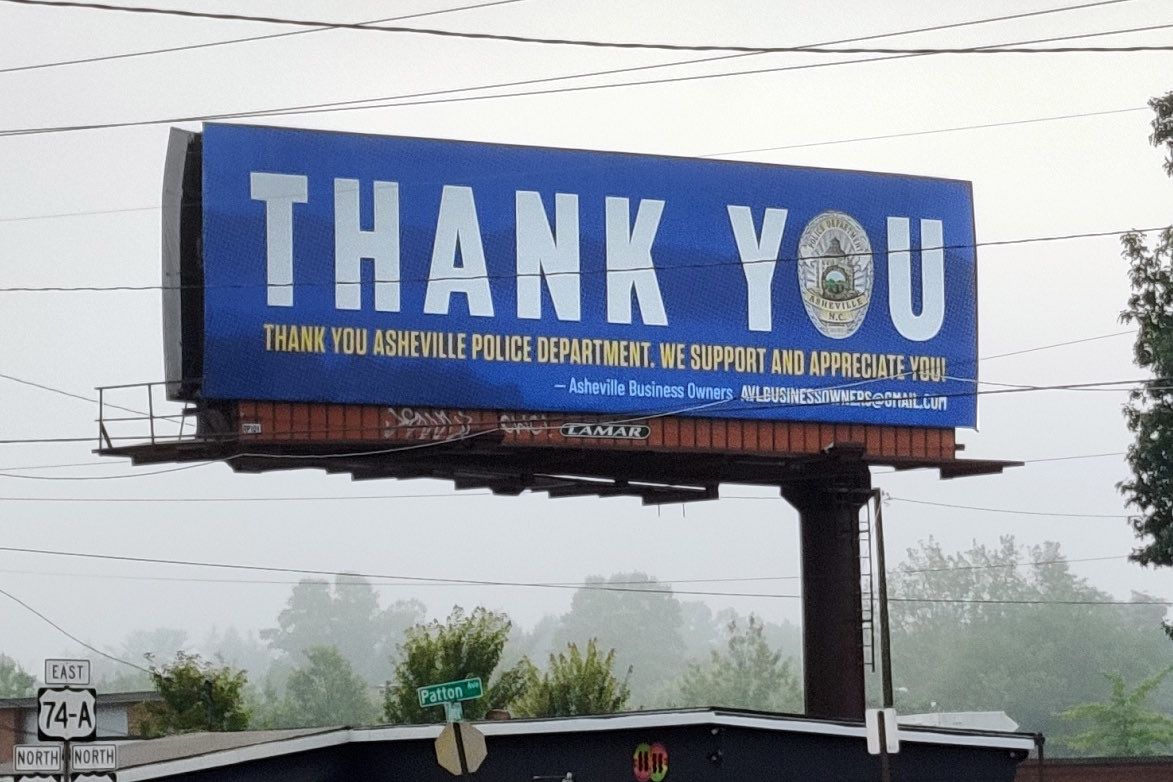 ---
Not all Business Owners Agree.
On July 21st, Mountain Xpress published an open letter that other business owners and nonprofit directors wrote in response to the formation of the "Asheville Business Owners" group. The letter contains the following statement:
As local business owners and nonprofit directors who have been deeply impacted by the Movement for Black Lives, we know that police cannot solve the complex challenges Asheville faces. [...] From housing shortages to drug overdoses, Asheville's crises stem from deep dysfunctions and injustices. For too long, our city has overinvested in punishment and underinvested in equity—reliance on policing is not the solution, it is the problem.
- Asheville Business Owners and Nonprofit Directors via Mountain Xpress, 7/21/21
---
We are 100% funded by community members like you. If you like what you just read, help us make more like it by becoming a patron.
Become a Patron!
---